We are all digging through the same visual treasure amassed over centuries, looking for inspiration.
It's what we do with what we find that makes our individual work unique…
Welcome to the inside of my head
Metaphorically speaking that is…
Here is where you will find a little more about what I do and how I do it, what inspires me, keeps me motivated, and often keeps me up at night.
Visual media is constantly in front of us and we consume it every waking hour. As a designer I consciously (as well as subconsciously) bring it all in, discard what I don't like and file away what I do for future inspiration. Whether it's on a website, in a book, the typeface in an ad campaign stuck to the rear of a bus, a TV commercial, the opening titles to a film or an image from a Google search – it always works it's way in and gets filed. Then through something I can never quite explain, mixed up fragments of those head-files reappear to me at just the right time, for just the right project, and a new design concept begins to work it's way out.
What you'll find below (among a few other things) is some of that inspiration along with an attempt to explain how it gets translated into my work. Some of these projects you'll find in more detail in my Work Portfolio.
And who knows. What inspired me may well inspire you.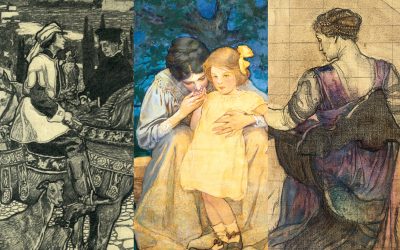 The Red Rose Girls, An Uncommon Story of Art and Love. Three female illustrators from the early twentieth century begin groundbreaking careers in a male dominated profession, and they did it together. While researching the life of the...
read more